Tweet
Meeting a group of friends and going out to eat some
pintxos
is something that most Basques enjoy on a regular basis. From the youngest to the oldest, in the tiniest village or the biggest city, pintxos are found everywhere and savored by everyone.
These delicious bite-size appetizers are an important part of the Basque culture and as a visitor, you do not want to miss out on trying them. That is why we have put together this list of our favorite pintxo bars in Bilbao (check out our Bilbao travel guide here).
The truth is that the list of pintxo bars worth visiting in Bilbao is very long. But since your time is probably limited, we wanted to share with you our selection of the top 5 pintxo bars in Bilbao. Hopefully you can visit at least one of these bars, or even better, all of them – your tummy will thank you!
The bar La Viña del Ensanche opened its doors in 1927 and has since become a classic in Bilbao. The bar was founded by Bautista González and today the third generation of his family is still running it. Their moto is "small selection, but of the best."
Apart from the pintxos, starters and a tasting menú, La Viña del Ensanche is especially famous for its high quality ham (jamón ibérico de bellota) from the brand Joselito – they have a record of having sliced up 72 ham legs in a single day!
In addition to the bar, La Viña del Ensanche also has a store next door with the goal of offering customers the same products that are served at the bar. The store offers a wide selection of wines, as well as other high quality local products.
You can find a nice video of La Viña del Ensanche here.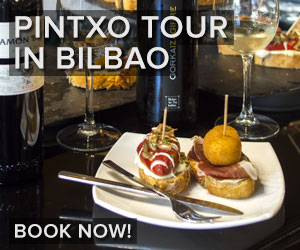 The bar Gure Toki is located in the heart of Bilbao's old town, in the Plaza Nueva. It first opened its doors in 1982 and is currently run by the second generation of the Siles family, who have a long tradition of offering award-winning pintxos.
Gure Toki offers Basque gastronomy in a miniature form: from the most traditional pintxos to more modern and innovative creations, but always respecting the raw ingredients and their Basque roots. The pintxos at Gure Toki are perfectly pared by the wide selection of wines that are offered.
Apart from the wide variety of pintxos visible at the counter, there is also a menu of warm pintxos that can be ordered and are cooked on the spot. One of the most famous ones is the sopa Idiazabal con hongos y huevo (soup of Idiazabal cheese with egg and mushroom).
Opened in 1903, the Café Iruña is another classic in Bilbao. It is without a doubt one of the most traditional bars of Bilbao, frequented by both locals and visitors alike. It offers not only a wide variety of pintxos but also breakfast and daily set menus for lunch and dinner. One of the most famous pintxos is the "pintxo moruno," which is grilled lamb on a skewer.
Located in front of the beautiful Albia Gardens, the interior decoration of the 300 m2 occupied by the Café Iruña is characterized by its moorish influence, full of beautiful tiles and a large collection of paintings. Definitely worth checking out!
The Café Bar Bilbao is located in the Plaza Nueva of Bilbao's old town. It opened its doors in 1911 and since then, has continually offered a wide variety of pintxos (both cold and warm) as well as raciones and salads. One of their signature dishes is the codfish ("bacalao" in Spanish) and we recommend you to try the pintxo of bacalao al pil-pil and the ración of bacalao al ajoarriero.
The atmosphere at Café Bar Bilbao is comfortable and cozy, mixing the taste of the authentic and traditional with modern cuisine, always based on quality produce. When weather permits, the terrace of the Café Bar Bilbao in the Plaza Nueva is the perfect place to sit down outside and enjoy some great food.
5
Irrintzi Pintxos & Friends
Irrintzi, with its modern and fresh interior decoration, was born as an alternative to the traditional pintxo bars in the old town and it has definitely made a name for itself. Located in one of the busiest streets of the old town, the Santa María Street, Irrintzi Pintxos & Friends offers, in its own words, "small treasures displayed at the counter in an unbeatable atmosphere."
The pintxos at Irrintzi are culinary combinations from all over the world that will be sure to entertain your taste buds. Among the wide variety of pintxos that they offer, you will find delights such as octopus carpaccio with leek and mashed potatoes or roast beef with spinach mousse.
That is our list of the top 5 pintxo bars in Bilbao. We know that there are many others worth mentioning, but we wanted to give a solid foundation for visiting pintxo hunters. Do you know of any other pintxo bars in Bilbao that you think are a "must"? Let us know in the comments below!

Tweet