The Basque cider house is one of the regions best-kept secrets. Cider poured from giant barrels & steaks as big as your head are just the start of an unforgettable experience.
The production of cider has a long history in the Basque Country, going all the way back to the 11th century. The sagardotegi was originally where locals would go to buy cider and they would typically take a meal with them so they didn't drink on an empty stomach.
This eventually developed into the tradition of the sagardotegi functioning as a restaurant and a place for social gatherings.
Today, sagardotegis are typically old farmhouses located mainly in Gipuzkoa, around San Sebastian, however, they can be found all throughout the Basque Country.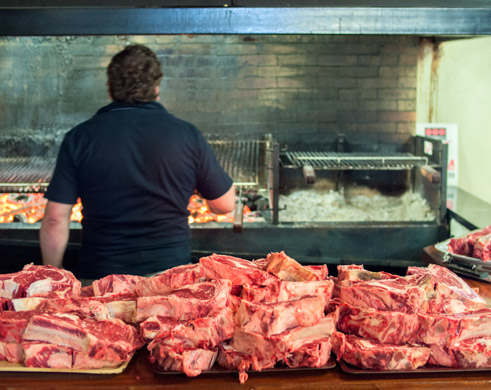 Traditional Basque Cider House Menu
For 35-40 € you receive a set menu that is pretty much always the same. It usually consists of:
First Plate: Tortilla de Bacalao (cod fish omelet)
Second Plate: Bacalao al pil pil (cod fish in a garlicky sauce)
Third Plate: Txuleton (enormous aged ox steak)
Dessert: Walnuts + local cheese with membrillo (quince jelly)
All you can drink cider
And of course there is cider and you can drink as much as you like, and even become a connoisseur in the process since there are normally several different types of cider to sample. The cider comes from giant wooden barrels (kupelas), which are opened periodically when someone yells "Txotx!"
The cider shoots out of the tap and must be caught several meters away and as close to the ground as possible. This is done for aeration purposes and its incredible fun.
The entire sagardotegi experience is one that shouldn't be missed and could easily be the highlight of any trip to the Basque Country.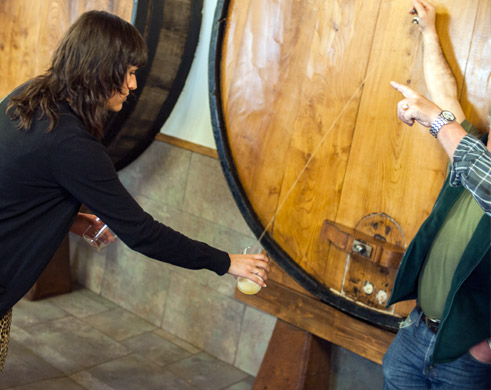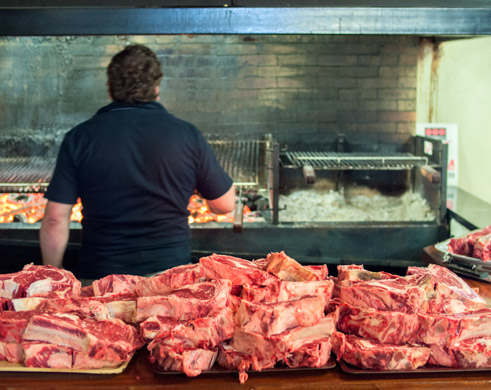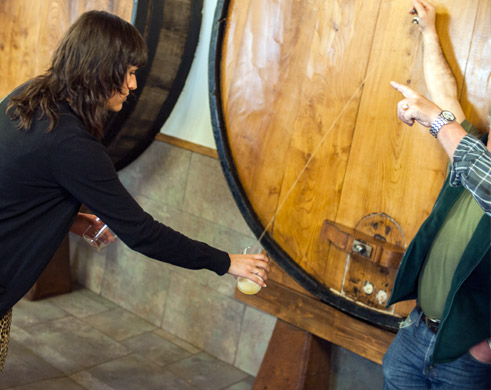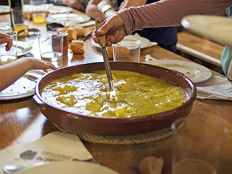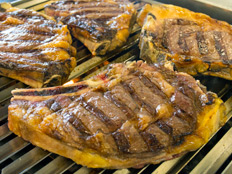 Sagardotegi Season
Apples for the cider production are harvested from September to November and then left to ferment. The official start of the cider season kicks off around the middle of January and runs until April or May. The cider houses are generally only open during the cider season.
However, there are a few that stay open all year round. One such is Petritegi and its located just 15 minutes outside of San Sebastian.
Experience a Basque Cider House
Since most sagardotegis occupy old farm houses, this means that they are mostly located in the green hillsides of the Basque interior. You will find the largest concentration in Gipuzkoa, particularly around the towns of Hernani and Astigarraga.
Because of their remote locations, cider houses can be a bit tricky to get to – particularly if you don't have a vehicle.
Of course, an option is to rent a car. However, if you want to enjoy a sagardotegi to the fullest, you will probably be drinking a fair amount of cider since it really is all-you-can-drink. For these reasons, it's usually a good idea to let somebody else take care of the driving.
The most convenient way of visiting a cider house is by taking part in this Cider House Experience from San Sebastián. Apart from transportation and a traditional cider house menu, this activity also includes a guided tour of the apple orchard along with production areas so you can see how real cider is made.
Reserve your spot here
Helpful Links:
Cider House Petritegi (open all year round)
List of cider houses in the Basque Country