With its three beautiful beaches, San Sebastian became the summer capital of Europe during the reign of the Queen Regent Maria Cristina. Over the years, the city hasn't lost any of its Bellé Epoque charm and today is still a popular touristic destination for travelers from around the world.
Of the three beaches in San Sebastián, La Concha is the most famous. Worldwide renowned for its almost perfectly arced bay, it is without a doubt Europe's most beautiful urban beach.
Queen Regent Maria Cristina is responsible for making La Concha famous in the middle of the nineteen century, when she started frequenting it and declared San Sebastián the summer capital of Europe. Afterwards, the city became fashionable and the aristocracy started to visit San Sebastian, building mansions on the shore, most of which are still visible today. This is also when

La Perla Spa opened and gained notoriety as one of the best spas of Europe.
The promenade of La Concha is a symbol of the city. When visiting San Sebastian, make sure you take time to walk along it, from the

Old Town to the

Miramar Palace. On the promenade you can enjoy the atmosphere and the views of the Santa Clara island and the Cantabrian Sea. If you still feel like walking when you get to the Miramar Palace, you can continue all the way to the

Peine del Viento, crossing

Ondarreta beach.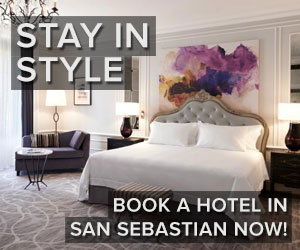 West of La Concha stands Ondarreta Beach, which stretches from the foot of

Mount Igueldo to the

Miramar Palace. Next to the Miramar Palace there is a short tunnel that allows pedestrians to cross from La Concha Beach.
Ondarreta is the smallest beach of San Sebastian, but none the less beautiful. It is probably the most traditional beach of the city, very popular among locals and is especially frequented by families with children.
East of La Concha is Zurriola Beach, also known as Gros Beach. The name "gros" thankfully doesn't have any connection with the english word "gross," and is instead named after the neighborhood that is located next to it.
The crowd at Zurriola Beach is generally younger and more local. Since the beach is not located within a protected bay like La Concha and Ondarreta beaches, it normally receives much bigger waves. For this reason it is popular among surfers. If you are interested in surfing, you will find several surf schools and various rental places around.
At the far eastern end of the beach there is a popular place called "el muro" (the wall), where people sit to enjoy the sunset over Zurriola Beach or to watch the surfers while listening the waves crashing against the rocks.