Biarritz has 6 km of beaches ("plages" in French) and is therefore a popular summer holiday destination. Its beaches are characterized by fine sand and large amounts of seaweed. The seaweed adds iodine to the water which is known to have beneficial effects on the body. These healthy properties of the water are the reason for the popularity of thalassotherapy (the medical use of sea water as a form of therapy) resorts in Biarritz.
The Plage Miramar is the beach situated between the

lighthouse and the

Hôtel du Palais. It is usually a quite beach, however, when the sea is rough, there can be strong currents. Surfing is not permitted.
The Grande Plage is the main beach of the town, popular among tourists and locals alike. It was previously known as the "Côte des Fous" (coast of the crazy), because of the large number of "sick" people who came for the benefits of the waters. It is located in the heart of Biarritz, close to shopping areas, bars and restaurants. The Grande Plage is situated between the Hôtel du Palais in the north and the Bellevue Congress Center in the south.
This very small but cute beach is located next to the

Old Port. It is sheltered from the wind and waves and therefore offers some of the best conditions for swimming. Plage Port Vieux is also really close to the center of the town and is frequented by locals all year around.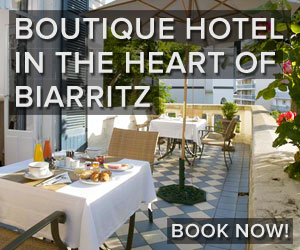 4
Plage de la Côte des Basques
The Plage de la Côte des Basques is the main surfing beach of Biarritz. This beautiful beach is framed by cliffs and during high tide its sand completely disappears under the water, leaving behind only waves and surfers. Take note that exiting the water at high tide can be difficult as you have to climb on the rocks.
The Plage Marbella is a beautiful beach that is essentially a prolongation of the

Plage de la Côte des Basques. It is a wild beach and is popular among surfers and bodyboarders. Be aware that to access this beach, you will have to climb down a number of steps.
Other Beaches
The

Plage Milady is located at the southern end of Biarritz. It is a big sandy beach that is very popular among the locals, especially families with children. There are multiple parking facilities in the surroundings and a nice promenade right next to the beach.
Anglet is the town just north of Biarritz. It is located just on the other side of Biarritz's lighthouse and it has several beaches that are in reality more like one long beach that extends for approximately 5 km. The first beach, called VVF Beach has lifeguards on duty from the June 1st until September 22nd from 10.30 am to 7.00 pm. Several of these beaches are popular with surfers. Check out the website from the town of Anglet for more specific information.