What makes Lekeitio so beautiful and unique is its geography, sitting right at the mouth of the Lea River. When the river meets the ocean, it forms a stunning landscape with a a sandy beach on each side of the river's mouth and the island of San Nicolás is situated right in the middle.
In addition, this landscape changes completely with the tide. San Nicolás Island is accesible by foot during low tide, making it quite a special spot to go for a walk and explore.
Isuntza Beach is Lekeitio's main beach. Located right next to the port and the old town, it is perfect for families with children because of its easy access and calm waters.
What makes Isuntza Beach special is that during low tide, it is possible to cross to the island of San Nicolás walking on top of a concrete and rock wall (called "malecón" in Spanish) that is covered by water during high tide. Be careful, because it is quite slippery and can get dangerous.
At one of the ends of Isuntza Beach there is a bar and in that same building, it is possible to rent kayaks. At the beach the following facilities are available: showers, WCs, changing rooms, lifeguards and parking.
With its more than 500 meter length, Karraspio Beach is Lekeitio's longest beach. Karraspio Beach is very popular but usually not as crowded as Isuntza. Again, during low tide, it is possible to get to the island of San Nicolás, but this time by walking directly on the sand.
There are also some facilities in this beach: showers, WCs, changing rooms, lifeguards and parking.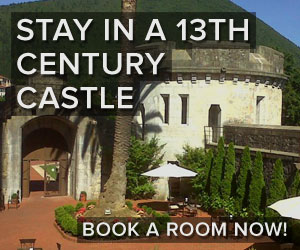 3
Island of San Nicolás (Garraitz)
The Island of San Nicolás, also known as Garraitz Island, is one of the things that makes Lekeitio so special. A skinny sand crossing is exposed during low tide.
Legend has it that during the Middle Ages the island of San Nicolás was used for a colony of lepers – to keep them away and avoid contagion. Today, visitors will just find some rabbits and maybe one or two shepherds with their goats.
If you have the opportunity to hike to the top of the island, you will be rewarded by a nice lookout point with impressive views of Lekeitio, its beaches and the rest of the Basque coast. It is definitely recommended!
While visiting the Island of Garraitz, it is important to keep the times of the tides in mind. The typical tourist mistake is to cross over to the island with food to spend the day on it and when they are ready to go back, find out it is now high tide and they are forced to swim back to shore.
La Salvaje Beach is the smallest beach of Lekeitio. This beach is formed by the mouth of the Lea River and its particularity is that it only exists during low tide – it is completely covered during high tide.
La Salvaje beach offers some impressive views of its surroundings: you can see the town, the port and the mouth of the river with the different types of vegetations and birds flying around. In addition, next to the beach stands the ruins of an old shipyard building, adding more charm to this relaxed town.