Bilbao's center is small all attractions are reachable on foot.
The metro is not only convenient but also worth checking out - it's beautiful.
The tram links the main points of interest.
Parking costs around 13-18€ per day.
Renting a bike can be an enjoyable way to move around.
Bilbao's city center is small and very easy to navigate on foot. If you plan out your day well, you can minimize your walking to about 10 minutes or so between attractions.
To give you an idea, here are some walking distances between the city's most important landmarks:
From the Guggenheim Museum, it is a 20 min walk to the old town along the river.
About half way between the Guggenheim Museum and the old town, you will find the Zubizuri bridge.
Crossing the Zubizuri bridge, it is a 5 min walk to the funicular station that will take you to the lookout of Artxanda.
The Gran Vía is Bilbao's main avenue. It crosses the center from the old town in the east to the Euskalduna Palace in the west.
From the Moyua square, it is a 5 min walk to the Alhondiga.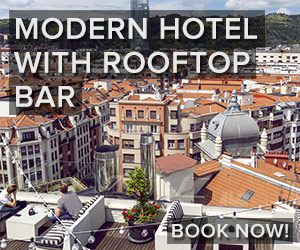 Bilbao is home to a modern metro system designed by architect Sir Norman Foster. It is made up of 3 lines that conveniently link Bilbao's center with the neighborhoods in the outskirts and also some adjacent towns.
As a visitor, the main stop of interest would be at Bilbao's bus station (San Mamés), as well as two stops along the Gran Vía (Moyua and Abando) and one in the old town (Casco Viejo).
Even if you don't really need to take the underground while you are in Bilbao, it might be worth it to do so anyway. It's definitely one of a kind!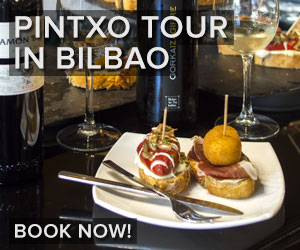 Metro Ticket Prices
Bilbao's metro is divided in 3 zones and the ticket price depends on how many zones your journey will cross:
One zone: 1.70€
Two zones: 1.90€
Three zones: 1.95€
All of Bilbao's center belongs to zone 1.
As another option, the tourist card Bilbao Bizkaia Card includes unlimited use of the public transport not only in Bilbao but in all of Biscay (buses, tram, metro and even the funicular to Artxanda). There are 3 different options:
24 h: 10€
48 h: 15€
72 h: 20€
The Bilbao Bizkaia Card also includes a couple of extra perks such as some free guided tours and skip-the-line benefit at the major museums.
On the other side, if you are planning to stay in Bilbao for a while, it might be worth it to get a Barik Card. This travel pass costs 3€ and can be topped up at all metro stations. With it, you will get the following prices for a single trip on the metro:
One zone: 0.96€
Two zones: 1.13€
Three zones: 1.23€
Bilbao's tram is run by Euskotren and is made up of one line that crosses the city center, linking many of the main touristic attractions. This makes it a very easy and convenient way to move around for visitors. To give you an idea, Bilbao's tram has a stop in the bus station (San Mamés), the Guggenheim museum, the Gran Vía (Abando), the old town (Arriaga) and the Ribera Market.
Tram Ticket Prices
One single trip costs 1.50€.
With the Barik card, one trip costs 0.73€.
The Bilbao Bizkaia Card includes unlimited tram trips.
Bus Ticket Prices
One single trip with a city bus from Bilbobus costs 1.35€. The Barik Card also works in these buses and, with it, one trip costs 0.66€.
Check out here the price of the buses from Bizkaibus.
The Bilbao Bizkaia Card includes unlimited tram trips.
Getting into Bilbao's city center can be a bit stressful. There are many one way streets and the old town is mostly pedestrian-only.
If you are not planning to get out of the city, however, you will probably not need/want a car during your stay in Bilbao. Using public transport and/or taxis will end up being a cheaper option, since you will save money on parking and gas. Our recommendation would be not to rent a car on arrival and only do so when you are leaving the city.
If you are going to be in the city center with a car, then make sure to look up a parking garage prior to your arrival (or even better, make sure to book a hotel with parking) and set it as destination in your GPS.
Travel by car in between cities in the Basque Country can be a great idea. Check out Discover Cars for the best rates.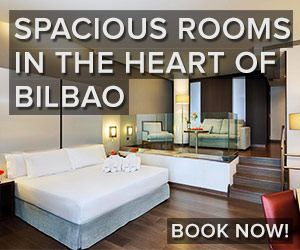 Parking in Bilbao
Parking prices vary. Generally speaking you can expect to pay around 13 to 18 € per day for parking downtown. Here is a list of the largest parkings in Bilbao's downtown:
We have hand selected a few great hotels with parking in Bilbao, Spain. However, if you want to see a complete listing of all available hotels, be sure to use the search function below.
A taxi ride from the airport to the city center takes 15 minutes and costs around 20 - 25€.
Once in Bilbao, you will soon realize that the city center is easily visited by foot and there will probably not be more than a couple of occasions when you will need any means of transport.
If that is the case, taking a taxi can be much easier than having to figure out the public transport options. It can also be a pretty good deal if you are traveling with more people (splitting the taxi cost instead of several tram/metro tickets).
Taxis in Bilbao can be easily identified because they are white with a horizontal red line in the side.
A very unique way to visit Bilbao is from the river with the boats of Bilboats. There are two standard routes:
Sailing Bilbao: 1h trip through the city center (no stops). Price: 13€ for adults, 9€ for senior citizens and children (5 - 10 years old) and 1 € for smaller children (up to 4 years old).
Sailing to sea: 2h trip from Bilbao's downtown all the way up to Getxo's Hanging Bridge, where the river meets the Cantabrian sea (no stops). Price: 19€ for adults, 13€ for senior citizens and children (5 - 10 years old) and 1 € for smaller children (up to 4 years old).
The rates include audio guide services in various languages (Spanish, Basque, English, French, German and Italian) with explanations of the route, its history, buildings, bridges and other constructions.
The boats depart from the jetty located next to the city hall bridge in the Pío Baroja Square. The scheduled departure times depend on the time of the year. Check their website for up-to-date information.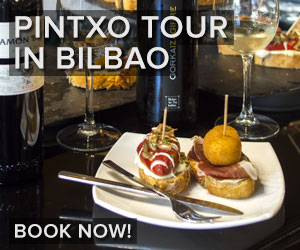 Bilbao's city center is flat and exploring it by bike can be a great idea. For example, the bike lanes along the river can make for a nice bike ride, stopping at some touristic attractions along the way, such as the Guggenheim museum or Zubizuri bridge.
There are also several bike rental companies in Bilbao. You can expect to pay around 15 €/day. Usually there are discounts when renting over several days.
Another great option to make the most of your time, is to take part in a bike tour.
Bikes are also becoming more and more popular among locals and the city offers an "electric bike rental service" called Bilbaobizi. However, this service is mostly designed for people living in Bilbao or, at least, staying for a while.
To use the bikes from Bilbaobizi, it is necessary to register in person at the office in the San Agustin building located at Ernesto Erkoreka 12. The annual fee is 20.25€ for Bilbao's citizens and 25.25€ for visitors. There are more than 30 official bike stations throughout Bilbao.